The Town of Stavely is a thriving community of approximately 544 residents and growing. Located between Lethbridge and Calgary, an hours drive from either on Hwy 2, Stavely is surrounded by ideal ranching and farming areas. Rolling prairies to the east and foothills to the west include camping areas, fishing and hiking trails. Newcomers to the town and area will welcome the openness, friendliness and community spirit that the residents of Stavely pride themselves on.
To learn more about the TOWN OF STAVELY, and all that we can offer, please call us at
403-549-3761 or email cao@stavely.ca
The TOWN OF STAVELY Town Office and Public Works will be closed Monday, May 22nd.
GOPHER CONTROL
The following locations will be targeted for gopher control in the near future (Late March to early May). Application and monitoring will be approx. 5-20 days.
Please watch for signage! During this time of application we ask that you keep your animals leashed and do not under any circumstance allow them to pick up or consume the gophers found above ground, they may contain poison this goes for all the areas but not limited to those that are listed below.
We ask for your patience and cooperation during this process as it will be a couple weeks or more of disruption.
You are able to still walk your pets but please keep them leashed and closely monitor them.
The Butte Stands Guard Book II
$50.00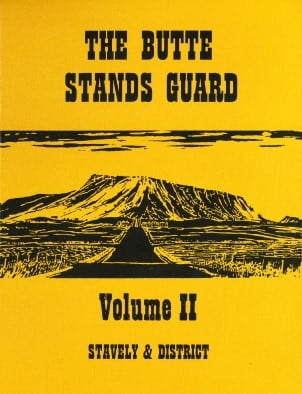 Postcards 15 for $15.00 - A great glimpse of Stavely over more than 100 years

Dog Licenses and Business Licenses are available for 2023. Please see Town office during regular business hours.
************************
The Town of Stavely, information for residents in regards to Bylaw 761 re: dogs
The full bylaw can be found under Local Government, Bylaws, Bylaw #761
However, the information that is important since the weather is now getting better and everyone should be reminded is as follows:
Bylaw 3.17.1 (the owner shall) secure the dog so that it would not be able to leave the premises of the owner
Bylaw 3.17.2 (the owner shall) ensure that the dog is on a leash or adequately controlled at all times that it is off the owner's premises.
Bylaw 3.22 The owner of a dog must ensure that such dog will not become a public nuisance by:
Bylaw 3.22.1 molesting or in any way causing physical harm to pedestrians upon the streets, highways, parks or other public places in the Town
And it goes on...but those are the highlights. Basically, if your dog is not in a secure environment (ie: fenced yard), it needs to be on a leash.
RV Campground: 15 fully serviced sites are available. The campground has on-site showers, water, power and toilet facilities during the summer season, which runs from May long Weekend Until October. Fees are payable in a drop box at or at the Town Office during office hours. NO RESERVATIONS ARE REQUIRED, THE CAMPGROUNS RUNS ON A FIRST COME FIRST SERVE BASIS. Fee's are $30.00 per day. Weekly and monthly rates are available for further information regarding rates or questions please contact the Town Office at 403-549-3761 during regular office hours.